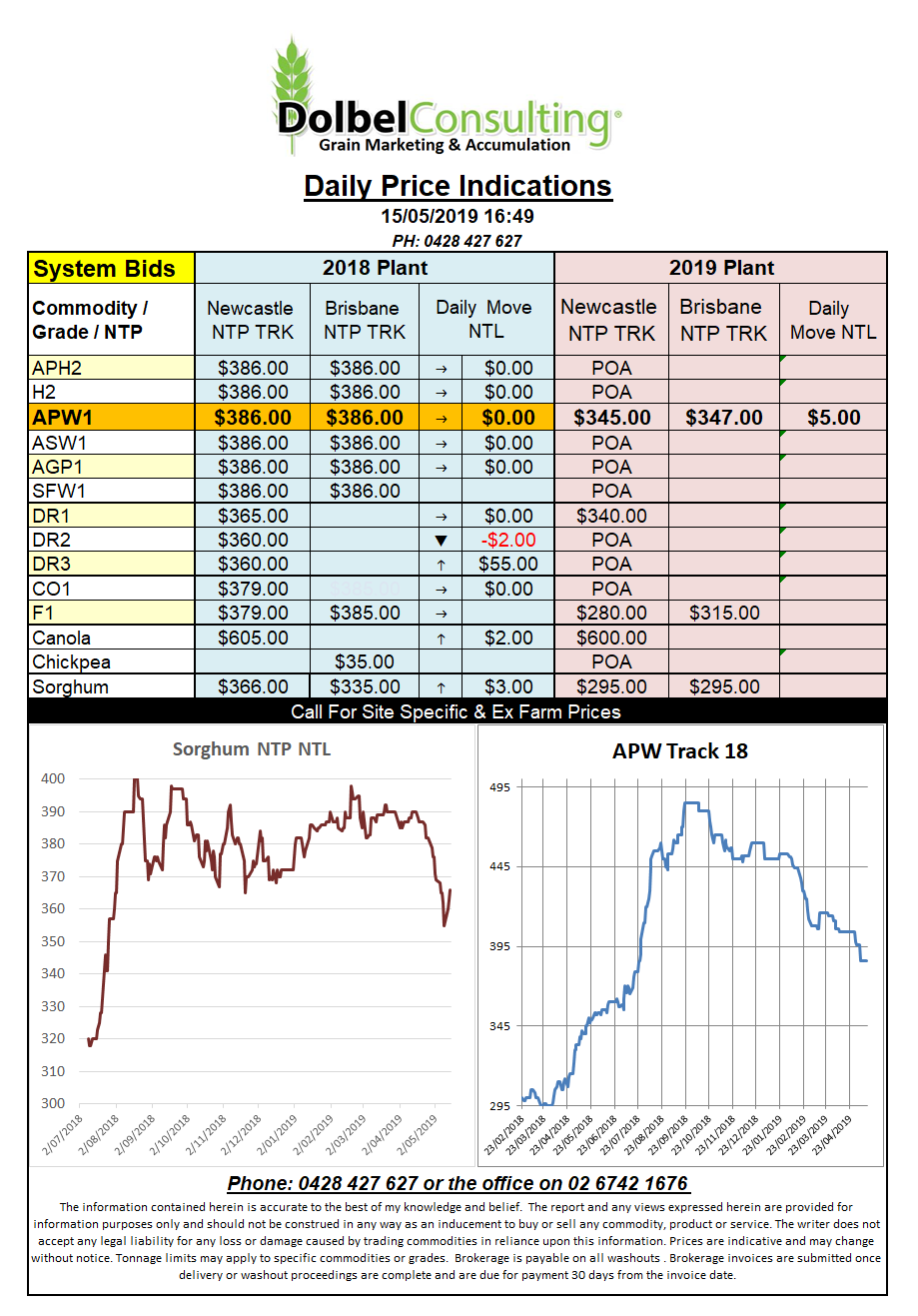 It was all about planting delays in the US session last night. Corn and soybean futures lead wheat higher after the USDA weekly crop progress report pegged slower than expected progress had been made in the central US corn belt.
Major producing states Iowa and Illinois were significantly off pace. With the weather forecast changing to suggest the next 7 days could see 2.5″ to 5″ across much of Iowa and the southern half of Minnesota the punters closed out some shorts pushing corn up 12.25c/bu on the July contract. Soybeans shrugged off the negativity of the last week and all of a sudden the US / China trade debacle took a back seat with CME July beans closing the session up 29c/bu.
Just to add a little perspective I should mention that cash soybeans were actually lower by 6.5c/bu while cash corn, although not up as sharply as corn futures at Chicago, cash bids did move 4.75c/bu higher.
Both HRW and SRW at Chicago saw double digit gains on the July contract with cash bids reflecting the stronger futures market.
Dry weather across central Saskatchewan has the punters wondering if the Canadian values are due for some upside. It's still early days though with just 20% – 30% of the Saskatchewan spring sowing completed. Looking for some price direction for export pulses we see Canadian values for Kabuli US$326, down US$60 week on week. Desi peas were less volatile with a US$1.00 fall week on week to US$240 Saskatoon. Kabuli is offered for sale at US$779 Indore. This roughly represents around AUD$900 upcountry N-NSW.