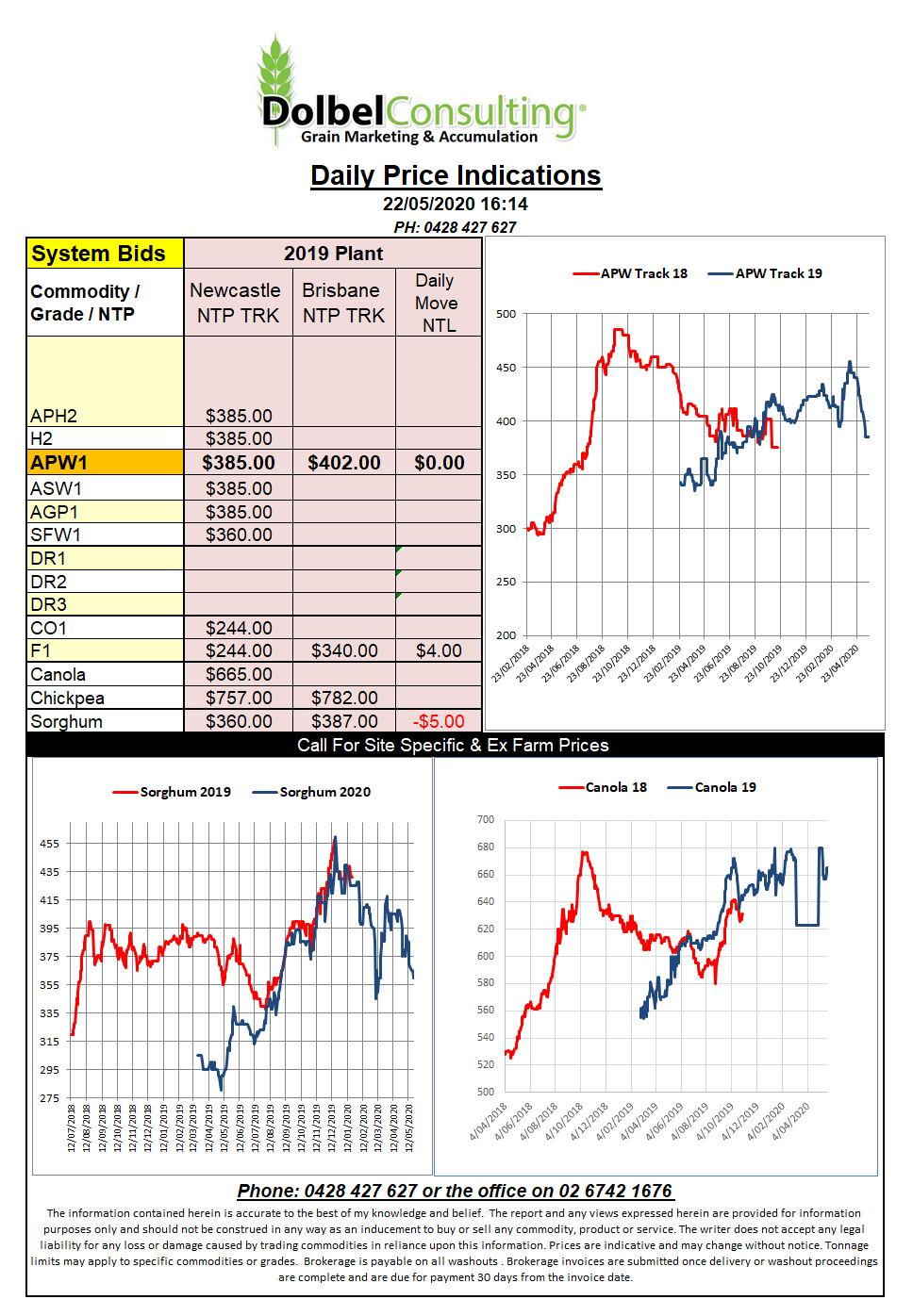 Soybean futures at Chicago saw double digit losses on the back of increased tension between US and China over the coronavirus.
Technically Chicago soybeans are now neutral to maybe a little oversold, so potentially a repeat of this week next week. Weekly sales volume out of the states were good at 1.205mt. China topped the buyers list with 737.4kt. Yet markets fell away.
Unfortunately the weaker soybean market dragged ICE canola futures and Paris rapeseed lower.
US weekly wheat sales were poor at just 175.8kt while corn was a little better but still not enough to impress the punters at 884.2kt.
IKAR reviewed their estimate for Russian wheat production back to 76.2mt, a slight drop from their last estimate. Dry weather across the Volga Valley is the main region this estimate has fallen. With much of the Russian wheat country seeing rain over the last fortnight it just leaves one region dry. That area is the region NE of the Black Sea, a high production region encompassing Krasnodar, Stavropol and north to about Volgodonsk. The area that is driest, NW of the Caucus, produces around 30% of the winter wheat crop. To try and quantify this we need some numbers. Firstly the winter wheat and spring wheat split which is roughly 56.8mt winter wheat and 19.4mt spring wheat. So the region produces roughly 17mt of winter wheat. The current estimate reflects a drop of 1.3% from IKAR's last estimate. Let's assume a 5% drop in the affected region, that would equate to about 850kt. That's not a lot considering the rest of the wheat producing regions, both spring and winter, have seen decent rain in the last couple of weeks as well as some good falls in Ukraine.