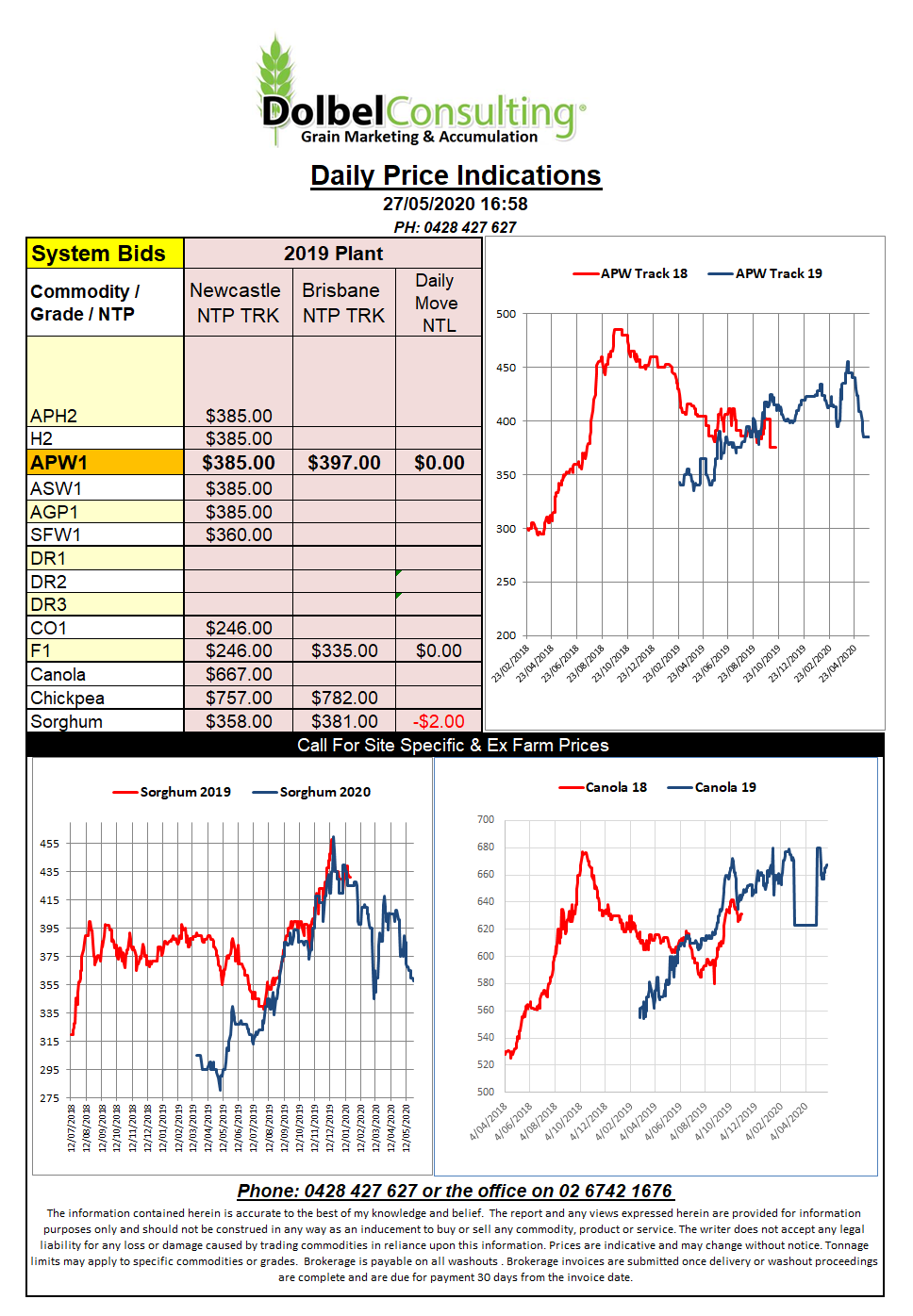 US wheat futures were either side of unchanged overnight, corn futures were flat to firmer while soybeans found a pulse and closed with double digit gains in the July > January contracts at Chicago. Soybeans were a buy early in the session but also found support from a sale of 258kt of US beans to China. The punters are, as much as they like the sales to China, also comparing volume month on month with S.American bean sales to China. In April China picked up about 6mt of Brazilian beans versus just under 700kt of US beans.
ICE canola futures found spill over strength from the move higher in Chicago beans. Canola closed C$4.60 higher on the night, not enough to counter the last three consecutive down sessions but a welcome change. Paris rapeseed was also a little firmer. As for spill over into strength in the Australian market we see the AUD gaining 1.68% overnight, a move that will counter any upside in most commodities. In fact for nearby CME wheat the move in currency alone reflects a loss of about AUD$4.82. Combine this with a AUD$1.10 slippage in futures and potentially we could see downside in cash bids by as much as $6.00 today.
Just to add a bit of mud to the water we do see the Aussie wheat Platts futures contract at Chicago close at US$228.50, US$7.00 higher. At a local level this would equate to about AUD$279 at Graincorp Gunnedah, cash bids were AUD$273 yesterday.
The Aussie dollar is up 15% from the March low and has a yearly loss of 6% against the USD. Last night's rally was a result of a better outlook for both the US and Australia as lockdown laws are lifted and people can get back to work. The AUD is now at a level last seen in late February, prior to the big fall. Australia is appearing as a coronavirus safe haven for the punters.