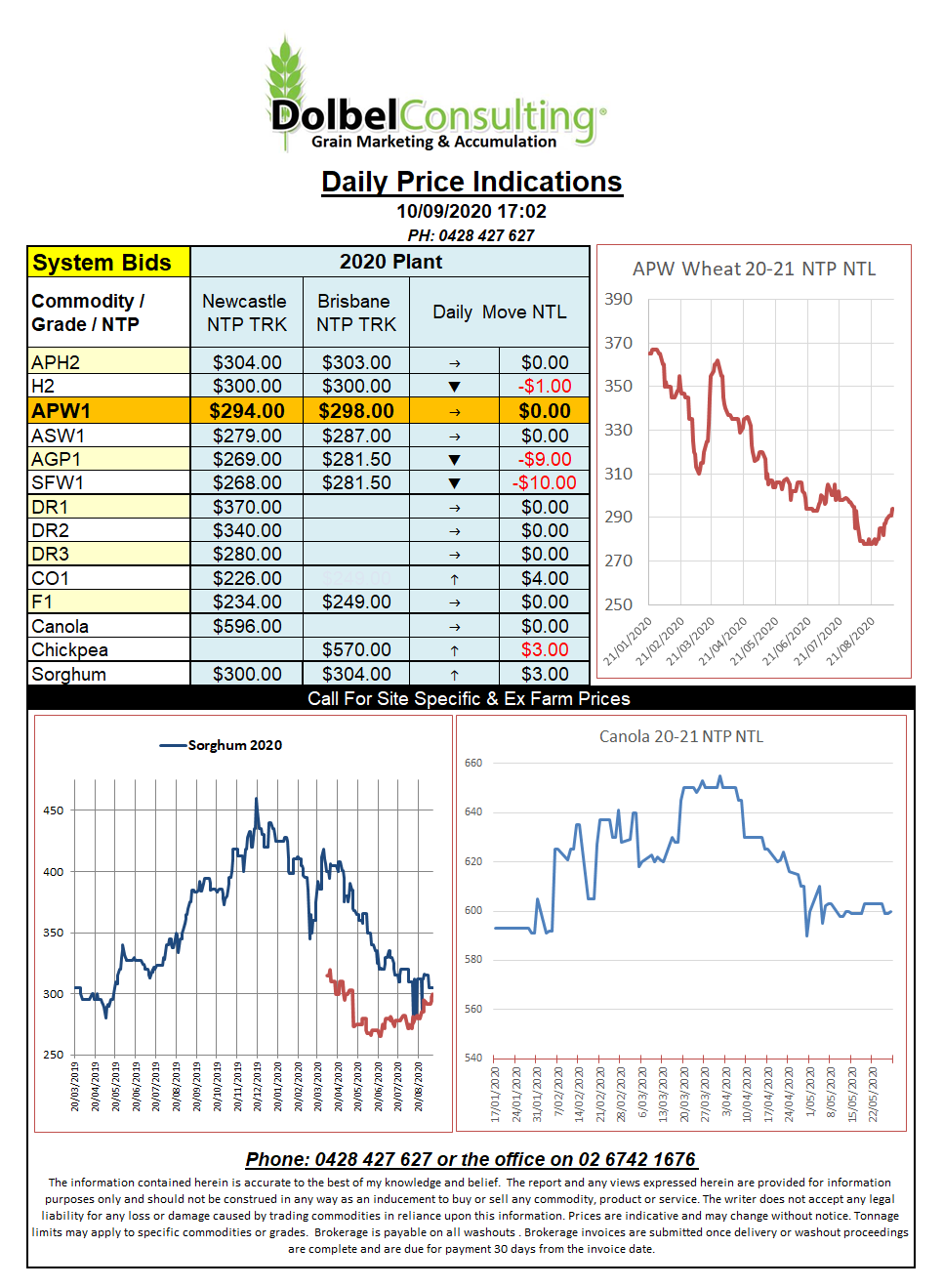 In the USA wheat and corn futures were fairly flat while soybeans continued to rally, the November contract setting a new high for 2020, closing at just under the 2019 high set back at the end of December.
The USDA confirmed that China had picked up another 318kt of US soybeans overnight. Combining the fundamental support from further good US bean sales to China and technical buying soybeans look to remain firm as agronomist check US fields after some early frosts this week. Some parts of Colorado have reported the earliest snowfall in 130 years and frosts were reported across many western locations from Nebraska to Minnesota.
US wheat futures found fundamental pressure from the larger ABARES estimate for the Aussie crop and a swift spring wheat harvest pace at home and a better than expected sowing pace for the US 2021 winter wheat crop.
Bullish factors included better export volume out of Russia, potentially leading to smaller ending stocks. News Pakistan will continue to buy wheat going forward, last night issuing a tender for another 170kt. Pakistan picked up 60kt of wheat from Russia at US$248 CFR.
Chinese wheat values continue to climb as feeders move to wheat after corn production was hampered in some regions by flooding. The jump in bids offered to the producer from private millers has resulted in state purchases reducing in comparison to the volume acquired last year.  Officially China produced a record wheat crop in 2020, as they do most years, but rising internal prices are not backing that up. Henan province produces about 20-30% of China's wheat. State purchases there this year are only 9.1mt, that's 5.4mt less than last year.