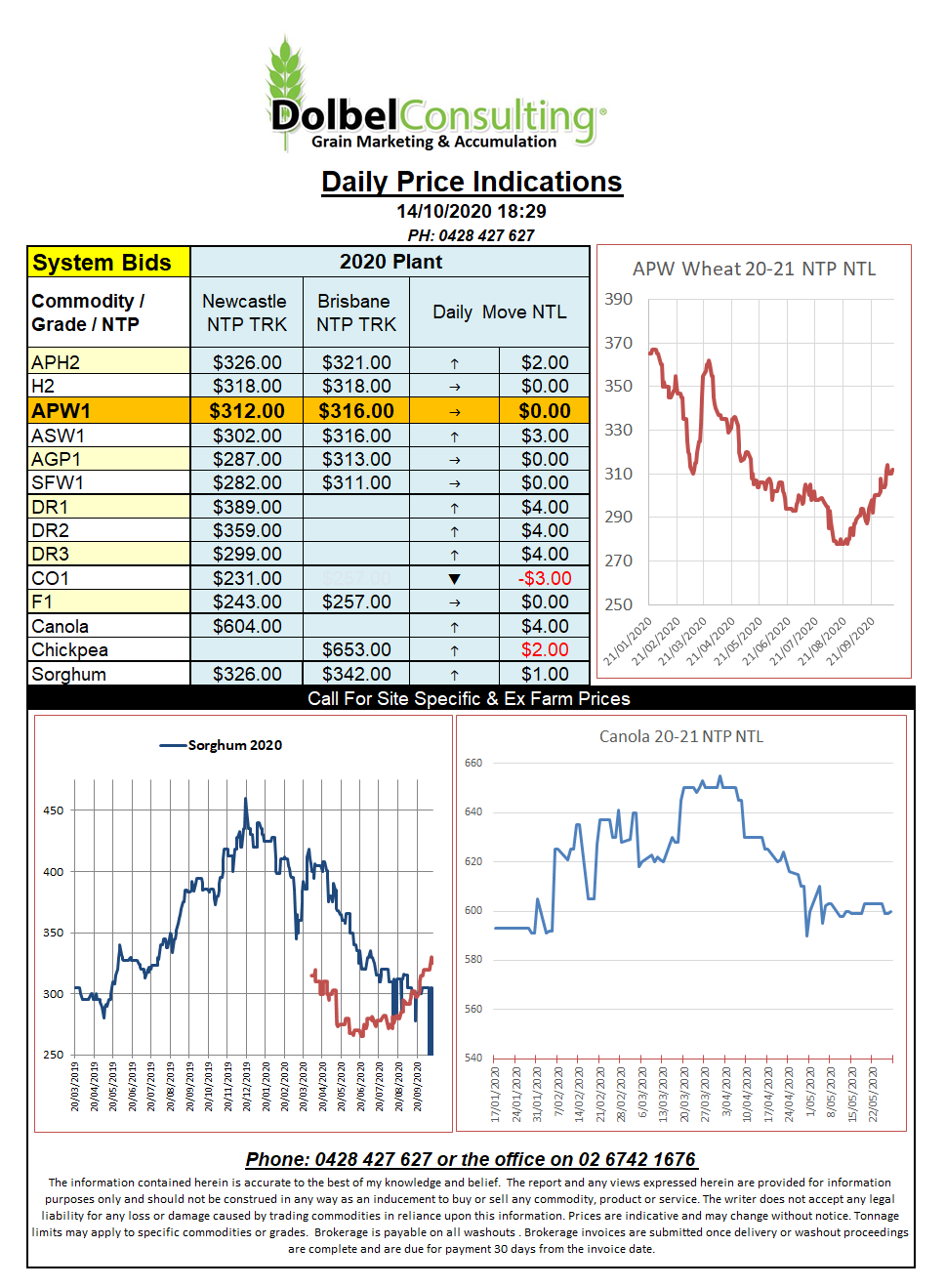 "Technical Tuesday", "turn around Tuesday", call it what you will, it was good to see US grain futures generally flat to firmer in overnight trade. Soybeans were the clear winner putting on 10.25c/bu on the nearby.  ICE canola futures were not following the lead though and shed another C$2.00. Across the Atlantic Paris rapeseed futures did close in the black, putting on three euros on the nearby.
Wheat futures in the states were a little firmer with Minneapolis and HRW futures closing in the black while SRWW futures at Chicago spoiled the show closing fractionally lower on the outer months but flat to firmer nearby.
Winter wheat sowing in the USA is progressing quickly with few weather disruptions to slow it down. Sowing is estimated at 68% complete which is pretty much what the punters were expecting to see in the weekly crop progress report. The report showed soybean harvest at 59% complete bang on the average trade guess and the G/E rating slipping 1% to 63%, this may surprise a few. The US corn crop was rated at 61% G/E, a 1% fall and 41% harvested a little more harvest progress than the punters had expected.
Out of the US Pacific Northwest Club white wheat values are unchanged, averaging 577.5c/bu. This would roughly roll out to a port Newcastle equivalent of something close to AUD$280 which is a fair way below current APW1 numbers here. Average HRW values out of the PNW were up a little at 693c/bu, using the same "back of the envelope" conversion we come up with a Newcastle value, into Japan, of about AUD$328, a little more than current H2 bids. Aussie wheat is still very competitive into SE Asian markets, there is no reason bids should fall.