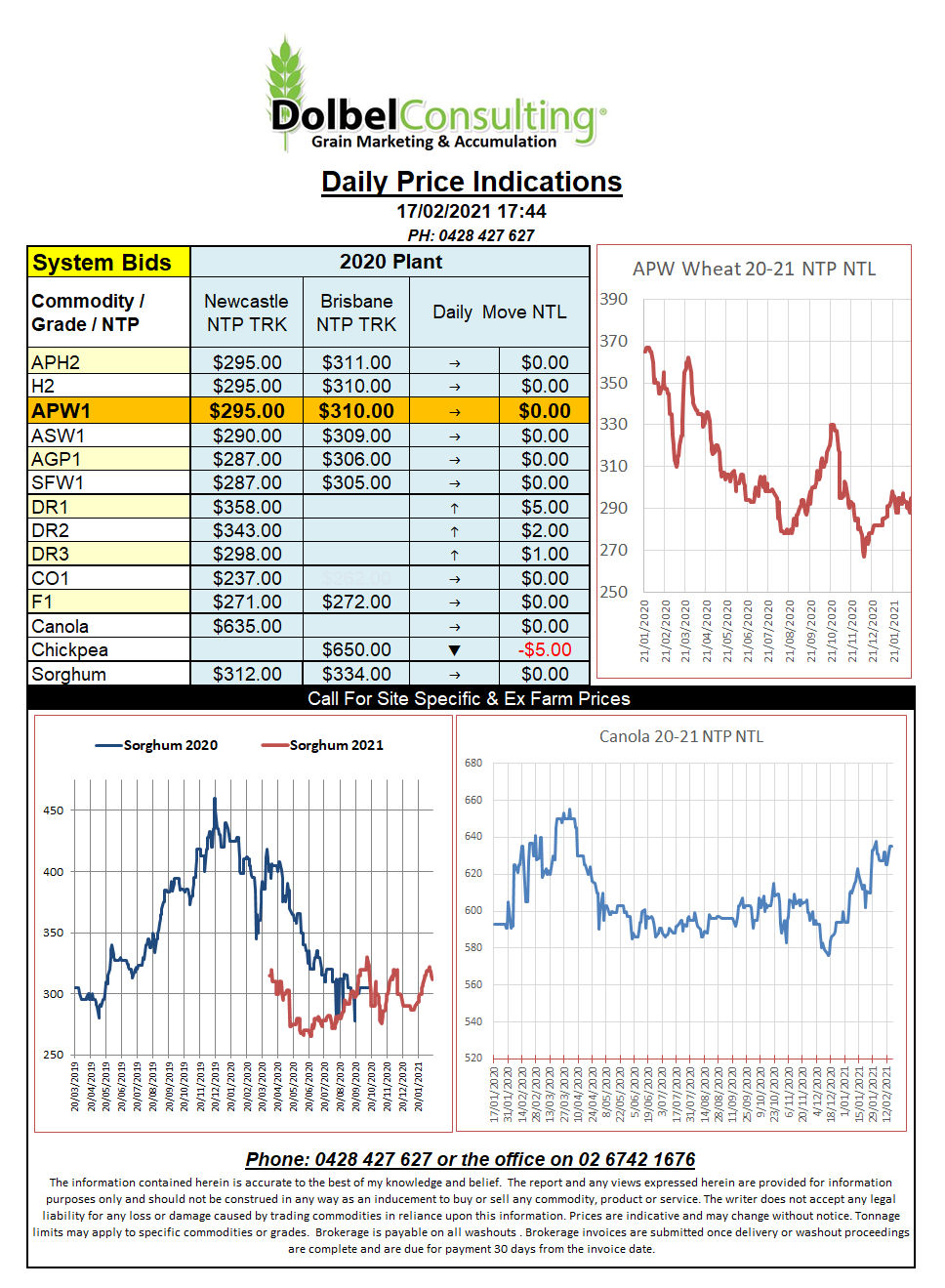 The weekend cold snap in the US was the main driver of US grain futures overnight. All three wheat grades saw nice gains in the nearby contracts with HRW and SRWW both pushing +20c/bu higher by the end of the session and settlement above the session high.
Technically May21 SRWW futures at Chicago are not in a bad position for another session or two of higher closes. From a cash price perspective, US wheat values are not that far out of the ball park into Asia thanks to the weaker US dollar. So as much as this is a February weather rally there is scope for further upside in the short term.
It will take a week or two for a full assessment of damage to winter wheat in the HRW belt. Maybe the caffeine fuelled day traders at Chicago will forgot if ever snowed by them maybe these results will confirm another rally is in order. Welcome to the March / April / May period, also known as the silly season for soon to become obvious reasons.
The strength in US wheat futures also rolled across into corn and soybeans. The oilseed market doesn't really need much more fuel at present. Strong export demand for soybeans and canola has continued to place a good value floor in oilseeds. Both Paris rapeseed futures and ICE canola futures were higher again. The Newcastle port basis chart over ICE is now too depressing to mention (-$107.65) by far the worst I've seen. If I was a canola grower I'd be knocking on some doors for logical answers.
Bulk sorghum offers out of the US destined for China was also up a little week on week. The conversion comes back to around AUD$450 delivered port NTL for SOR1 but we are not seeing this due to port access issues and packer slot limitations, sorghum is firm though.