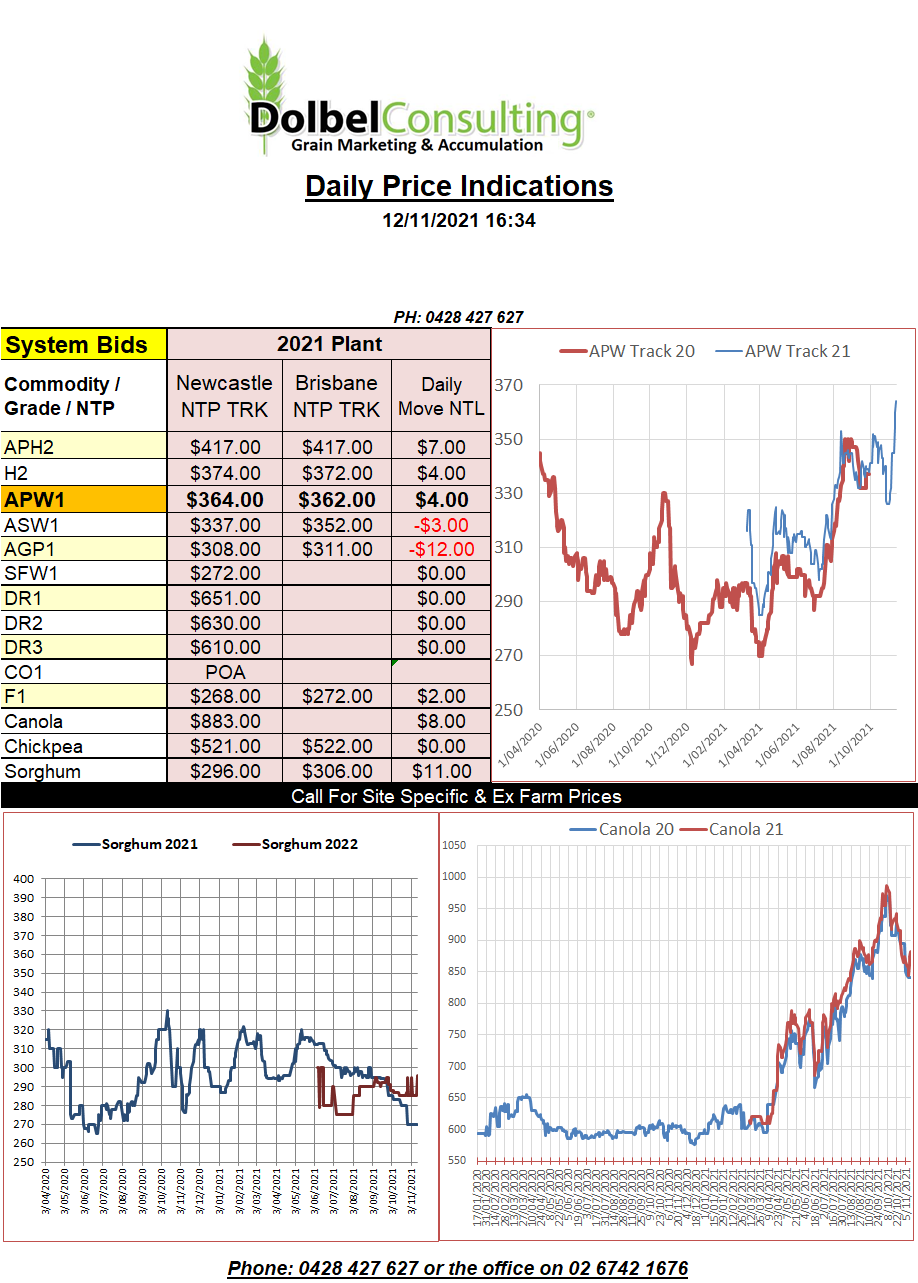 Canada had a day off last night, thanksgiving, so there are no ICE canola futures today. Paris rapeseed futures closed a smidge higher on the May slot and flat on the Feb slot. At Chicago corn slipped a little on profit taking, lower ethanol production and increasing US ethanol stocks. It's not unusual for ethanol demand in the states to slip back a little this time of year. There is also speculation from the oil refineries in the US that Biden will ease blending requirements.
Chicago wheat futures continued higher driven mainly by the Russian export developments. Russia looks likely to increase their export duty again next week as Black Sea values continue to rise. Talk of also introducing an export quota system may help the EU increase their share of the global market. Talk on potential down grading of wheat across parts of eastern Australian went basically unheard. It may take a few days and some confirmation images of the damage to the NSW and QLD crops to gain further international attention.
Cash prices for wheat around the world continued to push higher overnight. Values out of the US Pacific North West kept pace with increases in the US futures market. White wheat is up about AUD$20 per tonne and equivalent to an ex farm LPP price closer to AUD$600 than AUD$400, well above current cash bids to the producer here. High grade Canadian and US wheat out of the PNW was also higher by roughly AUD$11.00. Dark northern spring wheat @ 14% out of the PNW, using Japan as a consumer, would be comparable to an ex farm price here of over AUD$500, about AUD$130 better than what the producer is currently seeing on the bid side.