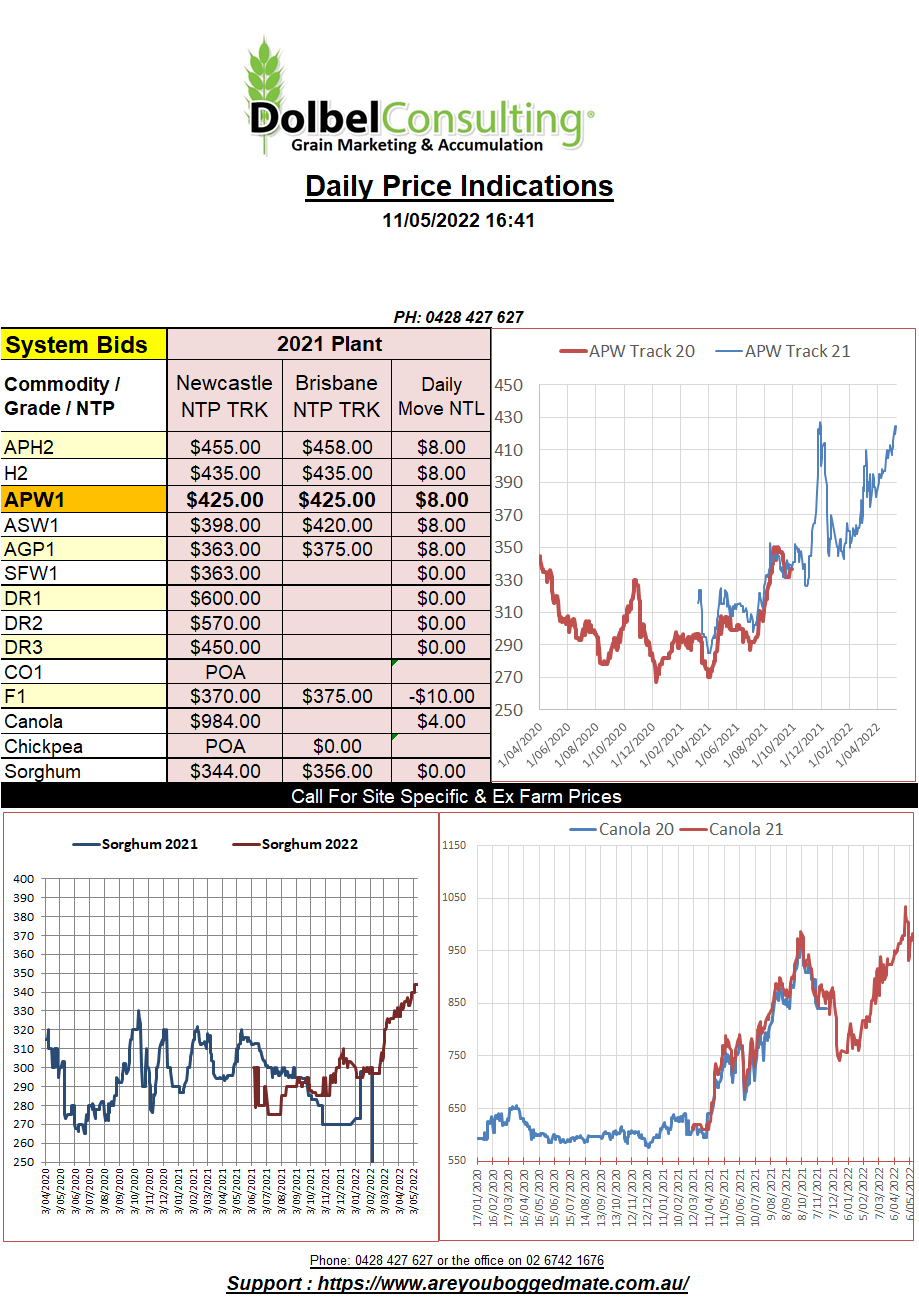 The USDA will produce their May World Ag Supply and Demand Estimate (WASDE) report on the 12th, so tomorrow night our time. This report is expected to contain all the adjustments created by the Russian / Ukraine conflict.
US wheat futures were mixed, the hard and spring wheat prices generally driven by the weather in the US. Spring wheat by planting delays and hard wheat by a mixture of poor crop condition ratings created by the dry winter and spring and rain now falling across much of the eastern HRWW belt. Temperatures across the central HRWW belt are also very hot, combine this with falls of up to 10″ in parts of eastern Oklahoma over the last 30 days and it is an ideal environment for disease.
Spring wheat is a mixed bag. The forecast in the US is for continued rain across the eastern spring wheat belt, creating further planting delays. Further north Saskatchewan finally has a decent forecast with generally 25 – 75mm of rain possible across much of the central and northern prairies over the next 7 days. One might have expected the better forecast to push local cash prices lower across SE Saskatchewan but according to the Alberta Wheat Commission price tracking tool PDQ, values are actually higher. Spring wheat gained C$6.15 for an October slot and durum up almost C$10 per tonne for the same period, closing the gap to old crop durum, now just C$50. Old crop canola across SE Sask was sharply lower, shedding C$21, new crop +C$3.
Algeria are in for some more soft wheat, looking to buy any dip in prices they can. Maybe they think that wheat will fall along with the Dow Jones. It's not an unreal expectation, they do have a correlation when looking at the past. Maybe the fundamentals for wheat are winning over the speculative market at present, time will tell. the French forecast is looking a little better.