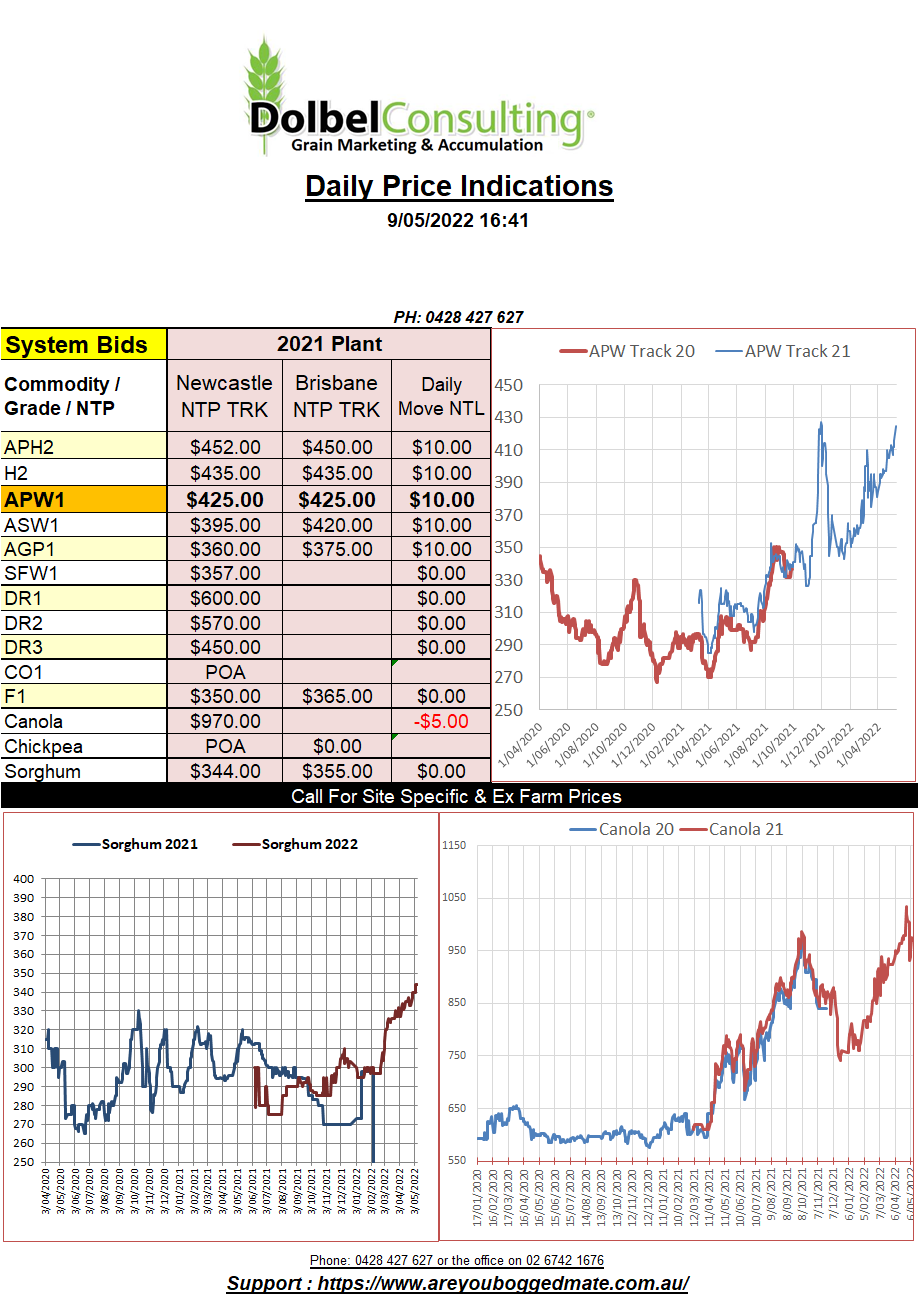 In the US wheat and corn futures took a breather. Corn performed poorly, slipping significantly in both old and new crop contracts. The most active nearby contract for corn, the July slot, shed 12.75c/bu (AUD$7.09). New crop slots were lower again, back 17.75c/bu for the Dec 22 slot.
The three wheat grades in the US were flat to lower, SRWW at Chicago and Minneapolis spring wheat were generally sideways to firmer in the 2022 contracts but hard red winter wheat at Chicago did see some slippage in the new crop.
Canola and rapeseed futures followed the Chicago soybean futures market lower. Soybeans trending lower on the back of a better weather outlook for the states next week, allowing some producers to potentially catch up on field work after last week's heavy rain across the south, central great plains. The weather forecast for the SE of Saskatchewan also improved, some storm activity predicted for the Prairies over the weekend.
The week ahead does not show any rainfall for the north of France apart for some light showers over the weekend. Keep an eye on crop ratings in France early next week.
There is some speculation on the world stage that India may introduce export restrictions on wheat after experiencing their hottest March on record and continued hot dry conditions throughout much of April / May. Indian traders are said to have contracted around 4mt of the potential 10mt of wheat likely to exported. India currently has about 8.5mt pencilled in for export according to the USDA. This would leave carry over around 21mt, their lowest carry over number in some years. In the past India has been quick to introduce import and export restrictions in order to influence local values. With their harvest now nearing completion we should see final production estimates much closer to actual numbers. What India does next will be very telling.