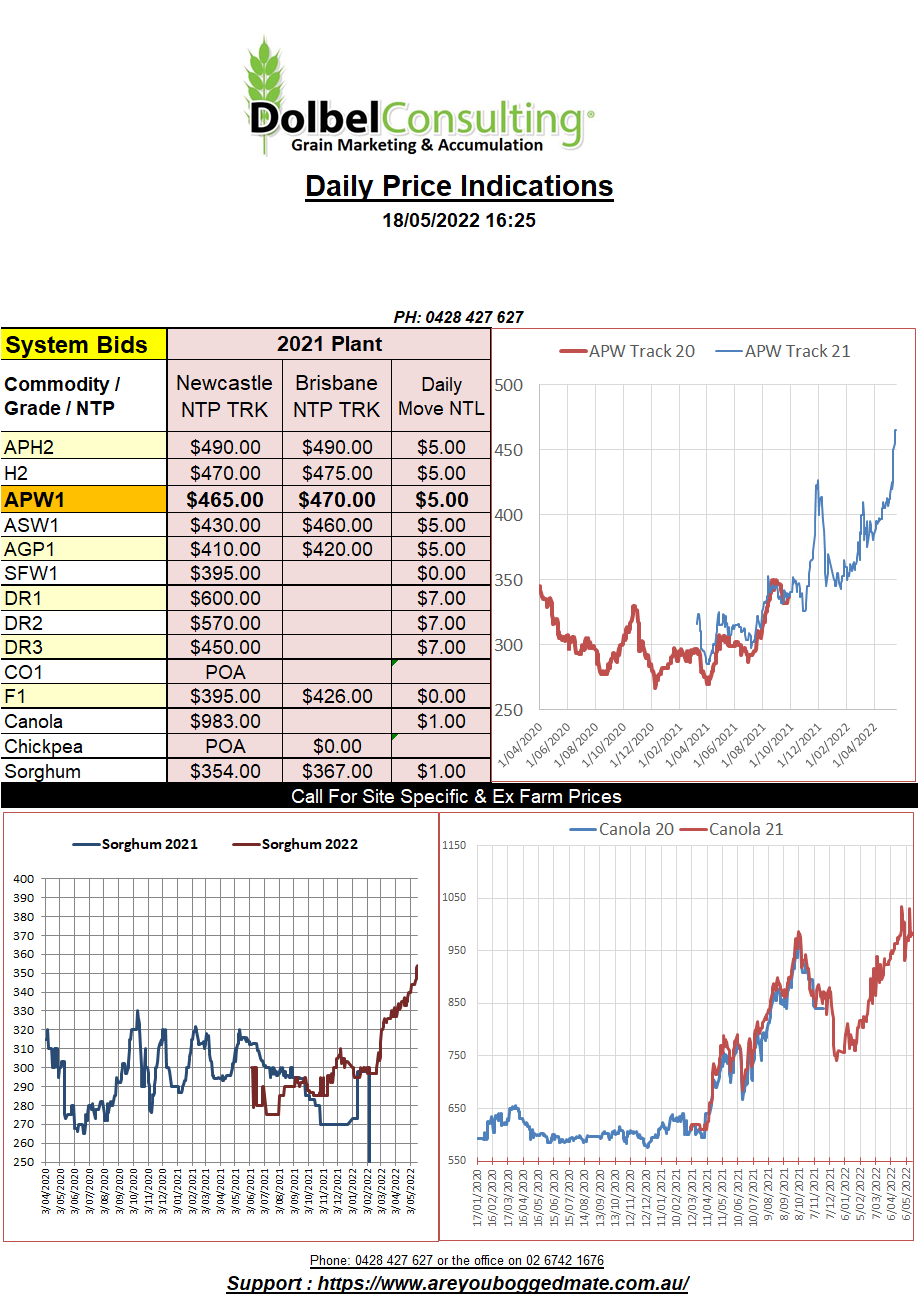 US markets took little notice of some reports suggesting India could relax their recently introduced wheat export ban. History will quickly tell you that India can and do backflip and change direction like the wind. Until we see Indian export sales loaded onto a buyers truck it will be hard to factor in their potential sales volume.
Chicago soft red winter wheat futures closed the session up 24.75USc/bu (AUD$12.95/t) in the Dec22 slot.
Hard red winter wheat and spring wheat futures also closed higher with more modest gains. Cash settled wheat at Minneapolis was a huge number US$15.55/bu (AUD$814/t), gaining 75c. US dark northern spring wheat was priced at US$552 FOB out of the Pacific North West but don't mention the lack of correlation between futures and cash. Paris milling wheat took a breather, back E1.25 / tonne for the Dec22 contract, closing at E431.75 / tonne (AUD$648/tonne).
A rise in US retail sales and some strengthening in US production indicators initially had the USD predicted to be firmer. Fears of mortgage rate increases in the US had sentiment lower in that sector, countering the strength in retail. At the end of the day the US Fed confirmed a 50pt increase before years end is still on the table. USDs flowed to the stock market, resulting in some selling of the USD, hence the better AUD/USD conversion this morning.  Some analyst expect to see the AUD push higher yet, in spite of a number of local indicators here suggesting things may get tougher before they get better.
Financial and commodity markets continue to be very hard to pick, shifting fundamentals and politics playing a huge role on a day to day basis.