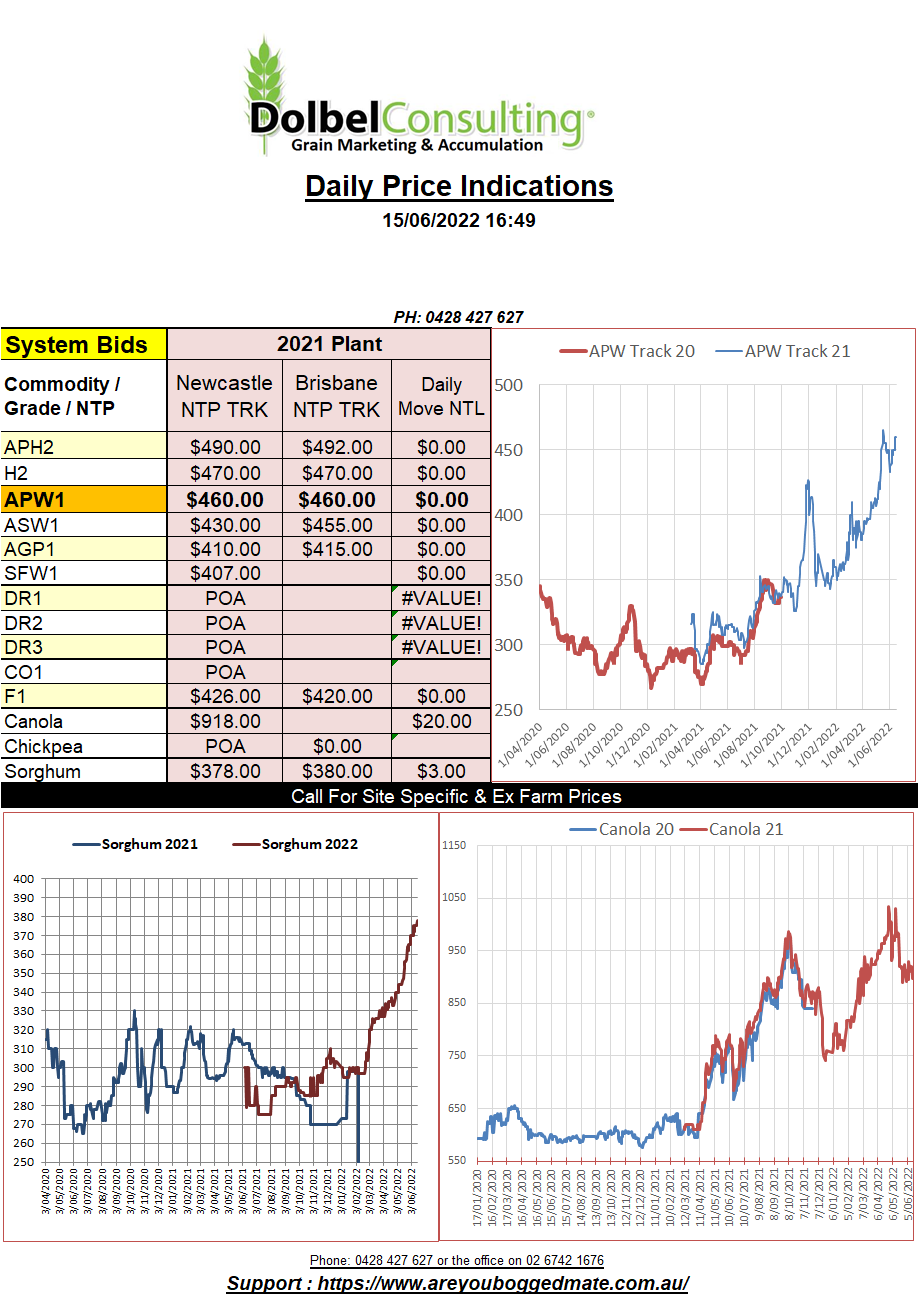 It's harvest time in the US hard red winter wheat belt. Progress is a bit stop start due to rain. The dry weather throughout winter and spring has yields very variable. Reports show yields from as low as 1.00t/ha to as high as 4.00t/ha. Protein is coming in average, or a little higher than average in the lower yielding crops. Kansas is yet to have a serious crack at harvest, Texas and Oklahoma are making some good inroads though. SunupTV and the Kansas State Uni sites are both excellent contacts for updates if you want to follow the harvest reports.
With harvest comes price pressure. All three grades of US wheat trended lower overnight. A mixture of technical selling, profit taking and harvest selling upcountry were noted as contributing factors to the lower close in futures.
The Russia / Ukraine war continues to underpin the wheat market, bullish news generally countered quickly by bearish news. Dry weather in Argentina is also another bullish fundamental factor for wheat. The inability of Argentina to capitalise on current wheat demand internationally is also surprising some punters, Argentina again unable to push through domestic politics to increase exports.
Jordan picked up 60kt of wheat overnight, said to be priced at US$489.75 CFR. This tender was cancelled a week or so back, not an uncommon theme with Jordan.
NE of the Black Sea in the Russian regions of Rostov and south of Volgograd are getting dry. The 30 day rainfall anomaly at about 40%. The last fortnight receiving no significant rainfall. This is probably not a huge concern for winter wheat as it will probably speed harvest up but it is a concern for summer crops / spring sown crops in the area.  SE France, durum country, remains very dry. Saskatchewan / Alberta should see good rain this week.